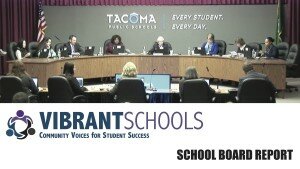 Vibrant Schools School Board
Study Session/Retreat Report Briefing: 2016 May 19
The study session focused on Board professional development issues, including ethics and conflicts of interest, Roberts Rules of Order and appropriate meeting procedures, the Superintendent's evaluation, and roles of School Directors.
All five Directors were present, as was Superintendent Santorno, Shannon McMinimee (legal counsel), and Paul Walker, the District's internal auditor. Ms. McMimimee and Mr. Walker were the primary presenters.
Ethics and Conflicts of Interest
Mr. Walker focused on ethics and conflicts of interest. Mr. Walker reviewed state law, District policy and a Code of Ethics for Municipal Officers in detail.
Mr. Walker indicated that directors or the Superintendent could not accept gifts if the value is over $50. Multiple examples were cited where public sector leaders had accepted such gifts and projecting an appearance of personal benefit or misuse of public resources. There were a number of questions asked about community events with significant ticket costs, as both staff and Board members are invited to many community events. Staff and Board members were urged to seek additional information about individual situations.
This scenario could also lead to allegations of conflict of interest, if a Director or key leader appears to be using their position to benefit a family member or themselves.
Roberts Rules and Parliamentary Process
Ms McMimimee focused on Roberts Rules of Order, including what constitutes a "majority" when a Board member abstains or recuses her/himself. Board members received 600+ page books outlining the various elements of Roberts Rules. Following the proper meeting process is important for decision-making, as a decision that did not follow proper meeting process can be challenged, and could be held invalid.
Superintendent Evaluation
The Superintendent's Evaluation Process is starting now. Supt. Santorno is evaluated based on goals she set with the Board last August. The goals are based on the District's strategic plan. Progress toward achieving the goals is documented with evidence, so that there are tangible and objective ways to assess performance. It is not opinion-based. The Board will hold executive sessions on June 2 and 16 to carry out the evaluation process. In August the Board will hold a retreat to set 2016-17 goals with Supt Santorno.
Director's Roles
Tanya (secretary to the Board) assembled a packet of information for the board including the elements of leadership, communication, a commitment to personal development and a commitment to treating people with civility and respect.
Vibrant Schools Comments
Vibrant Schools strongly supports the current format of measures and ongoing evaluation built into the Superintendent's evaluation and affirms both the School Board Directors and the Superintendent's team for developing this approach to initiating progress and change. The coalition values this fact-based form of leadership and will continue to reference these measures as the coalition engages with district leadership.
Call to Action: None at this Time
http://vibrantschoolstacoma.org/wp-content/uploads/2016/01/Vibrant-Schools-Logonew.png
0
0
lucas
http://vibrantschoolstacoma.org/wp-content/uploads/2016/01/Vibrant-Schools-Logonew.png
lucas
2016-06-09 15:54:02
2016-06-09 15:54:02
Vibrant Schools Study Session Brief: May 12, 2016