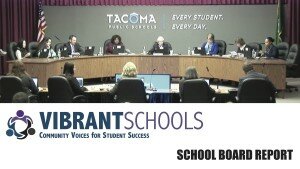 VIBRANT SCHOOLS TACOMA COALITION
SCHOOL BOARD MEETING ONE PAGE BRIEF FOR FEBRUARY 25, 2016:
TESTIMONY
Alton McDonald testified regarding his concern around mistreatment of black staff members in the district.
Lucas Smiraldo of Vibrant Schools praised the district for spurring a significant improvement in school liaison participation in the Equity Advisory Committee and expressed his desire to see this impact replicated system wide around similar priorities.
TOPIC AND ISSUES
SAFETY
Dr. Jennifer Kubista, Director of Student Life, presented a report around changes in suspension and expulsion rates among "cohort" groups compared to previous years and noted specific advancements at specific schools.
VIBRANT SCHOOLS QUESTIONS:
In lieu of long-term suspensions or expulsions, what discipline tactics are being used?
Are we seeing fewer incidents of behavior leading to these forms of discipline or are administrators addressing these behaviors differently?
How is the term "cohorts" defined here?
(For example, if a student is expelled from third grade…is s/he included then in her/his fifth grade cohort, or is that student out of the cohort?)
AN OBSERVATION
Vibrant Schools noticed specific schools were highlighted in the report and wondered about other schools and regions not highlighted.
TOPICS AND ISSUES
THE MEANING OF "GAP"
Vibrant Schools welcomed a clarification from Superintendent around the phrase "gap". The Superintendent clarified that the phrase "gap" should be used when comparing one group of students to another such as report outs by race.
Vibrant Schools agreed with the student representative who indicated that while CIHS is a great program, many families may not be able to afford them and for this reason, access could be an equity issue.
VIBRANT SCHOOLS CALL TO ACTION: NONE AT THIS TIME
School Board Brief and Full Report Feb 25.2016 Web Version 4.13.16 pdf
http://vibrantschoolstacoma.org/wp-content/uploads/2016/01/Vibrant-Schools-Logonew.png
0
0
lucas
http://vibrantschoolstacoma.org/wp-content/uploads/2016/01/Vibrant-Schools-Logonew.png
lucas
2016-04-14 11:00:28
2016-04-14 11:00:28
VIBRANT SCHOOLS SCHOOL BOARD BRIEFING: FEBRUARY 25, 2016