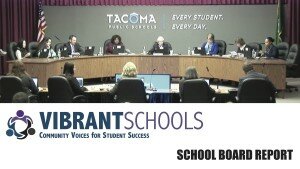 SCHOOL BOARD MEETING ONE PAGE BRIEF FOR MARCH 10, 2016:
TOPICS AND ISSUES
An Extraordinary Superintendent.
Vibrant Schools joins in celebration with our school board over the recent commendation honoring Superintendent Carla Santorno through a resolution passed by the Washington State House of Representatives.
Vibrant School Recognitions.
Vibrant Schools recognizes Peace Community Center and Bill Hanawalt for being honored by the White House as program of excellence for summer learning and to Jason Lee Middle School as a designated demonstration site for AVID.
Service Provider and Evaluator?
The University of Washington at Tacoma (UWT) has partnered with the Tacoma School District to support the Whole Child Initiative. The program will now be evaluated by the UWT as well. School Board Director Debbie Winskill posed a question about whether an institution can provide a service and also independently evaluate the success of that program. Vibrant Schools believes this is a legitimate question that deserves an answer.
Topics for Future Board Study Sessions.
Vibrant Schools believes that School Board Study Session are important and place the following recommendations as priorities:
Tacoma's English Language Learner (ELL) Program
A Look at Tacoma's Equity and Achievement Data
Community Outreach Efforts and Ways to Measure Success
Transparency
Vibrant Schools would appreciate knowing what each School Board Director chose as a priority for upcoming study sessions.
VIBRANT SCHOOLS CALL FOR ACTION:  None at This Time
School Board Brief and Full Report March 10.2016 Web Version 4.13.16
http://vibrantschoolstacoma.org/wp-content/uploads/2016/01/Vibrant-Schools-Logonew.png
0
0
lucas
http://vibrantschoolstacoma.org/wp-content/uploads/2016/01/Vibrant-Schools-Logonew.png
lucas
2016-04-18 08:44:24
2016-04-18 09:14:42
VIBRANT SCHOOLS SCHOOL BOARD BRIEFING: MARCH 10, 2016